Hey Folks! This article, written by Developer Advocates Priyanka Vergardia and Brian Dorsey, was originally published on the Google Cloud Tech Blog. For more #GCPSketchnote, follow the GitHub repo &  thecloudgirl.dev. For similar cloud content follow Priyanka and Brian on Twitter at @pvergadia and @briandorsey.
Where should you run your workload? It depends...Choosing the right infrastructure options to run your application is critical, both for the success of your application and for the team that is managing and developing it. This post breaks down some of the most important factors that you need to consider when deciding where you should run your stuff!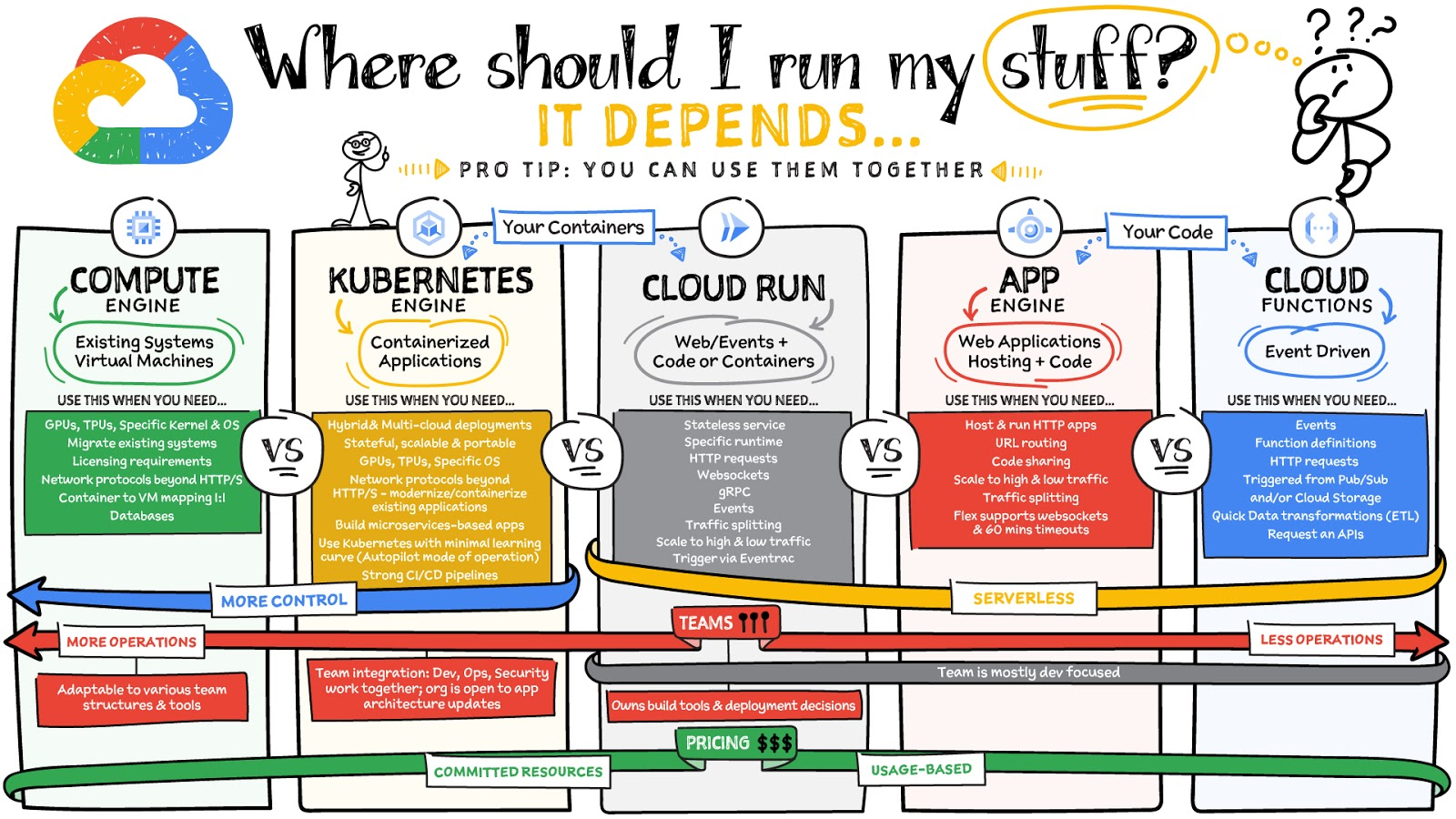 What are these services?
What level of abstraction do you need?
What is your use case? 
Need portability with open source? 
If your requirement is based on portability and open-source support take a look at GKE, Cloud Run, and Cloud Functions. They are all based on open-source frameworks that help you avoid vendor lock-in and give you the freedom to expand your infrastructure into hybrid and multi-cloud environments.  GKE clusters are powered by the Kubernetes open-source cluster management system, which provides the mechanisms through which you interact with your cluster. Cloud Run for Anthos is powered by Knative, an open-source project that supports serverless workloads on Kubernetes. Cloud Functions use an open-source FaaS (function as a service) framework to run functions across multiple environments. 
What are your team dynamics like?
If you have a small team of developers and you want their attention focused on the code, then a serverless option such as Cloud Run or App Engine is  a good choice because you won't have to have a team managing the infrastructure, scale, and operations. If you have bigger teams, along with your own tools and processes, then Compute Engine or GKE makes more sense because it enables you to define your own process for CI/CD, security, scale, and operations. 
What type of billing model do you prefer? 
Compute Engine and GKE billing models are based on resources, which means you pay for the instances you have provisioned, independent of usage. You can also take advantage of sustained and committed use discounts. 
Cloud Run, App Engine, and Cloud Functions are billed per request, which means you pay as you go. 
Conclusion
It's important to consider all the relevant factors that play a role in picking appropriate compute options for your application. Remember that no decision is necessarily final; you can always move from one option to another.
To explore these points in more detail, please take a look at the "Where Should I Run My Stuff?" video, and to dive into GKE check out this training.