In March 2023, we fielded the C2C Member Pulse to observe trends, skill gaps, and challenges in Google Cloud and how our members use community to enrich their cloud experience. This infographic highlights a portion of the findings.
Communities exist everywhere. Choosing the right one and getting value from participation can be confusing for members. 
For community professionals, keeping up engagement numbers is a struggle—every community experiences never-ending effects of the 90-9-1 rule of participation inequality. Overcoming the rule isn't going to happen, but the inequality curve can be shaped by lowering the barrier to entry in ways members want to participate. The results from the 2023 Member Pulse help us better understand what else our members need and how we can prioritize the evolution of C2C's online experience.
We know our members' top priorities when it comes to Google Cloud, digital transformation efforts, and that respondents are gaining skills from a mixture of in-person events and online learning. Through our research findings, we also have gained valuable insights into the motivations and priorities of our members for participating in communities. To make members feel safe in their choice to spend their most precious resource—time—on us, we can look at all the factors in our control that impact community participation behavior. Which topics we feature and who we invite to the stage can all be adjusted accordingly.
Joining Communities
Networking emerges as the top driver for community engagement across all job roles. The desire to establish connections, build relationships, and expand professional networks is a common thread that unites our community members. The opportunity to connect with like-minded individuals, share experiences, and foster collaborative endeavors holds immeasurable value.
Almost equally important are training and educational opportunities. C2C members seek to enhance their skills, broaden their understanding, and stay up-to-date with the latest advancements in the field. By participating in third-party communities, they gain access to a wealth of knowledge, particularly from Google Cloud experts. These experts, known as Google Cloud Developer Experts, form a trusted and vetted global network. Their hands-on experience and working knowledge of Google Cloud products enable them to provide community members with invaluable best practices and insights.
When it comes to choosing the platforms for community engagement, the landscape showcases diverse preferences. Platforms like LinkedIn foster active participation, providing a professional environment conducive to networking and knowledge sharing. In contrast, platforms such as Reddit and Facebook generate limited community building within our context. The inherent anonymity and casual nature of Reddit may not align with the professional networking objectives sought by our members.
Education from the Stage
Content and agenda topics, costs, and distance to event are the top three factors that impact respondents' decision to attend events. Factors that impact decisions to attend events are consistent across event type attendance.
Across various job roles, respondents express a strong desire to hear from product managers of the specific products they use, such as Google Cloud employees or technology implementation partners. This preference stems from the members' eagerness to gain firsthand insights and practical knowledge related to the technology they employ in their organizations' digital transformation endeavors. These product managers serve as a direct link to understanding and maximizing the potential of the tools and solutions driving their digital journeys.
Diversity, Equity, and Inclusion
Diversity, equity, and inclusion (DEI) play a crucial role in the cloud technology industry. With the industry's growth and impact on our daily lives, it is vital to reflect the diversity of the communities it serves. DEI promotes equal opportunities, fosters innovation and creativity, and encourages diverse perspectives and ideas. Collaboration among people from different backgrounds and experiences leads to unique solutions, enhancing the quality of services and products. 
Inclusivity in the cloud technology industry fosters a productive and fulfilling work culture, where everyone feels valued and respected. Ultimately, DEI is critical to creating a more equitable and just society through the cloud technology industry.
We asked respondents to rate their perception of DEI in the technology industry overall and within their own organizations. Every organization has their own DEI policies in place—or some not at all—but nothing spans the entire tech industry. Respondents rate DEI as much more favorable within their organizations than in the technology industry.
Visualizing It All
Take a look at how the community ranks the options they were given for participating in communities, who to connect with, and DEI perceptions.
 
View image as a full-scale PDF here.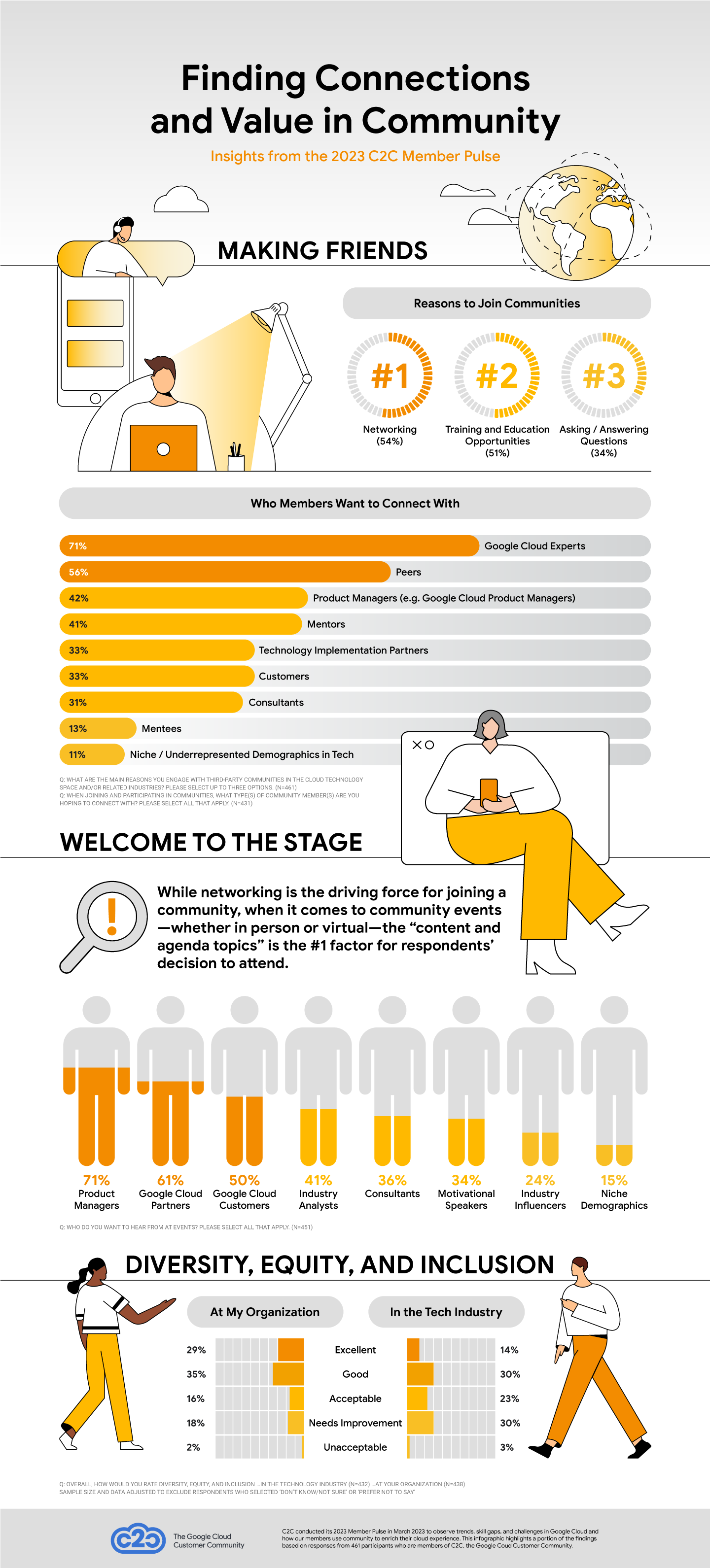 Get the Most of Community
As members of our community, your voices shape our initiatives. While we learned a lot about you collectively in this survey, we also want to meet your needs as an individual. Take a moment to update your profile today, and ensure you're receiving the most relevant and valuable content tailored specifically for your interests.