Personal development and professional development are among the hottest topics within our community. At C2C, we're passionate about helping Google Cloud users grow in their careers. This article is part of a larger collection of Google Cloud certification path resources.
The Google Cloud Professional Security Engineer works to verify all controls related to security operations, network security, and compliance within a company's cloud infrastructure. Exam takers should be prepared to design, develop, configure, and manage secure workloads and data access.
The skills a security professional brings to any team help to protect a business's assets from malicious attacks by identifying threats and applying security best practices. In a fully secure environment, these configurations also shield the business from misstepping in areas of high legal risk. Worldwide, privacy and data protection is trending in national legislative measures, with approximately two thirds of all countries having passed laws and about a dozen more with drafts prepared. And while GDPR-like laws regulate all sectors, cloud security professionals are especially in demand for the financial services, ecommerce, tech, healthcare, and life sciences industries.
These laws are turning consumer privacy into a hot topic, but consumer privacy is not the only security concern businesses need to keep in check. In the United States, for example, an executive order was passed earlier this year to improve the nation's cybersecurity measures. Given the ever-evolving landscape of cybersecurity regulations and the continually expanding arsenal of security technologies, security skills are some of the most in-demand skills in cloud technology professions. However, cybersecurity certifications aren't limited to security engineers. Across the board, these are the most popular cross-certifications among the respondents to Global Knowledge's IT Skills and Salary Report. 
Whether your goal is to specialize in a security role or to boost your credentials and close skill gaps on security-related issues in another cloud technology role, we have answers to the following:
What experience should I have before taking this exam?

What roles and job titles does Google Cloud Professional Security Engineer certification best prepare me for?

Which topics do I need to brush up on before taking the exam?

Where can I find resources and study guides for Google Cloud Professional Data Engineer certification?

Where can I connect with fellow community members to get my questions answered?
View image as a full-scale PDF here.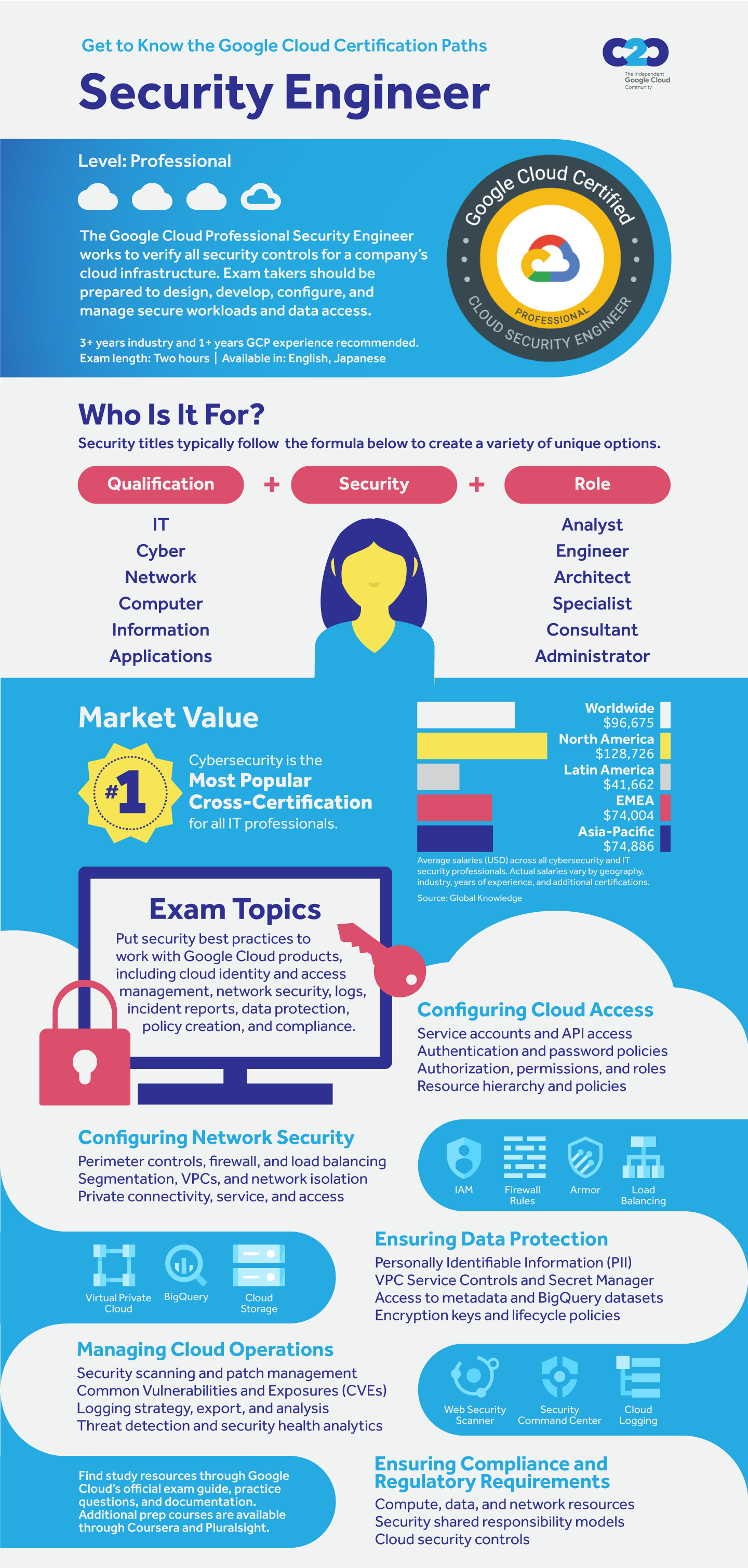 Extra Credit