Any community must support the needs and growth of its members to succeed. At C2C, we're passionate about helping Google Cloud users grow in their careers. Becoming certified is an excellent way to enhance your career as a Google Cloud professional. Please join us for a  series of conversations breaking down different Google Cloud certification options.
What are Google Cloud certifications?
Google Cloud certifications prove your technical expertise in Google Cloud technology. Like any education documentation, a certification on its own won't replace actual working experience, but it's a reason for potential employers or clients to trust that you have the credentials to complete the tasks at hand. For example, Google Cloud Partners are expected to be certified in the area they are serving. Certifications are also seen by employers as a value-add to any potential candidates they want to hire.
How do I get certified?
Well, that depends on what you're interested in! Google Cloud offers varying levels of certification across multiple career paths, and each one has its own recommended amount of experience and training. Ultimately, though, each certification requires taking the exam and walking away with that official badge.
But there's a lot to consider before jumping right in. We've pulled together the answers to common questions among our community of Google Cloud users, including:
How does a Google Cloud certification benefit me and my career growth?

Is certification worth it? What about other cloud certification options?

What are Google Cloud's certification requirements?

What are the exam fees and how can I qualify for vouchers or discounts?

How can I best prepare for exams and find training, study guides, and other resources?

If I want to complete multiple certifications, where do I start?

Once I'm certified, does my certification expire?
View image as full-scale PDF here.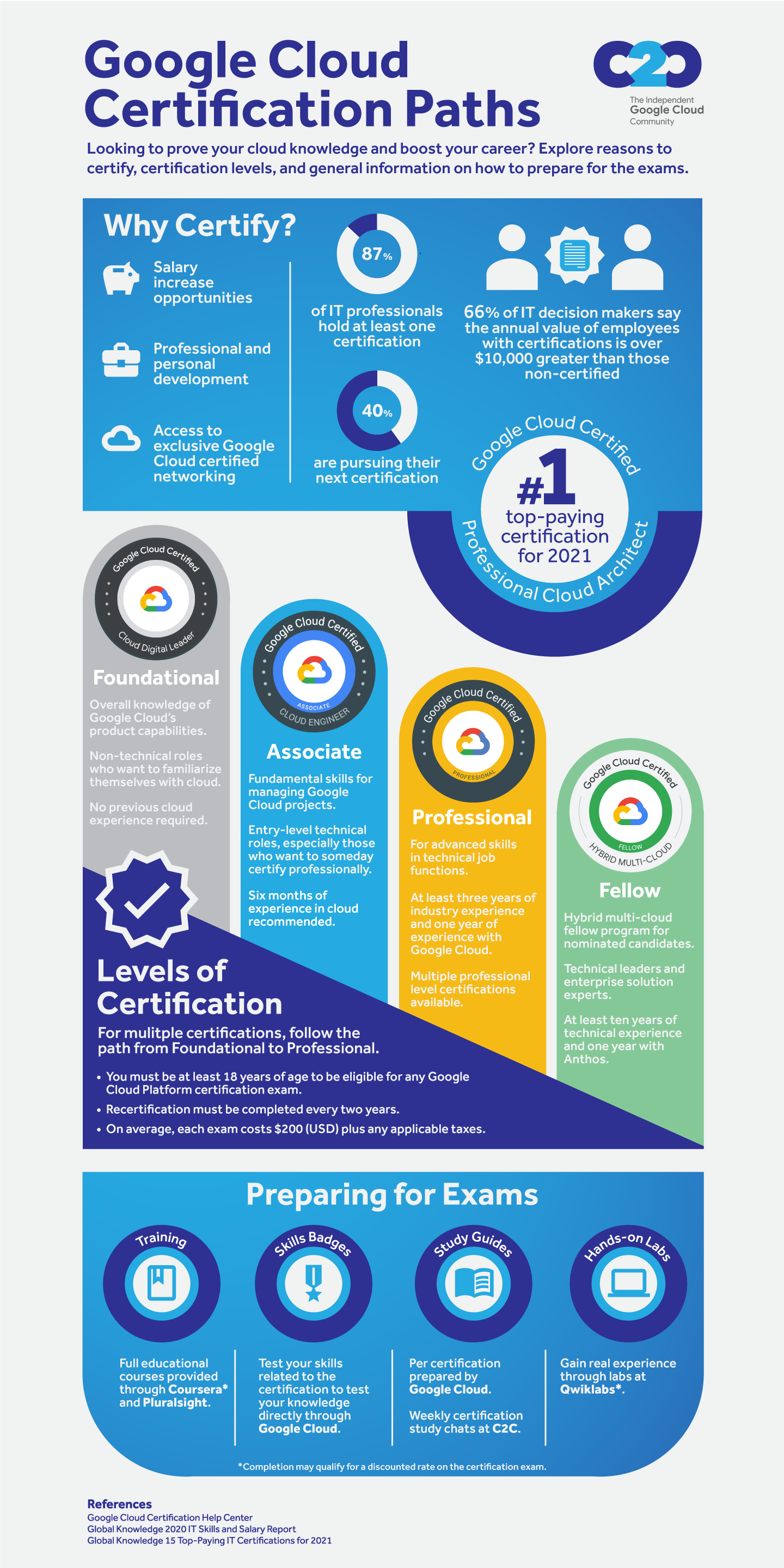 So which certification is best?
Now that you know which certification paths exist, you're hooked on the pursuit of shiny new tokens of your professional development! But let's say you're still mulling over which one will align with your career goals. Over the next few months, we'll share some helpful information per path and link them all to the below directory.
Professional Cloud Developer

Professional Cloud DevOps Engineer

Professional Cloud Network Engineer

Professional Collaboration Engineer

Professional Machine Learning Engineer
Not included in the above-mentioned levels for this infographic are the recently released certifications specific to Looker.
Looker Business Analyst

LookML Developer
Interested in pursuing a certification and want to talk about it with the community? We have a *new* chat for that! Register below: 
Extra Credit