We are so excited to partner with Google Cloud on a research project testing and improving the performance of software delivery teams in a live C2C Talks event on June 9 and discussion on the results on June 23.
Read on to learn more about the survey and how C2C community members can get involved. 
What's the survey about? 
DORA's State of DevOps research program represents six years of research and data from over 31,000 professionals worldwide. It is the longest-running academically rigorous research investigation of its kind, providing an independent view into the practices and capabilities that drive high performance in technology delivery and ultimately organizational outcomes. Our research uses behavioral science to identify the most effective and efficient ways to develop and deliver software.
Use our quick check tool to discover how you compare to industry peers, identify specific capabilities you can use to improve performance and make progress toward becoming an elite performer.
Google Cloud and the DORA research launched the 2021 State of DevOps survey this week. The survey takes approximately 25 minutes to complete, and we are looking for C2C Community members to participate.
Why do our answers matter? 

Your answers will allow the Google Cloud DORA team to understand better the practices that teams are employing to improve software delivery performance and, in turn, generate powerful business outcomes.
Tell me more about the DevOps report, please. 

The State of DevOps report provides an independent view into the practices and capabilities that organizations can employ to drive better performance irrespective of their size, industry, and region.  
Like the past six research reports, the goal this year is to perform detailed analysis to help various teams benchmark their performance against the industry as elite, high, medium, or low performers. We also look to show specific strategies that teams can employ to improve their performance. 
The table below highlights elite, high, medium, and low performers at a glance from the last report.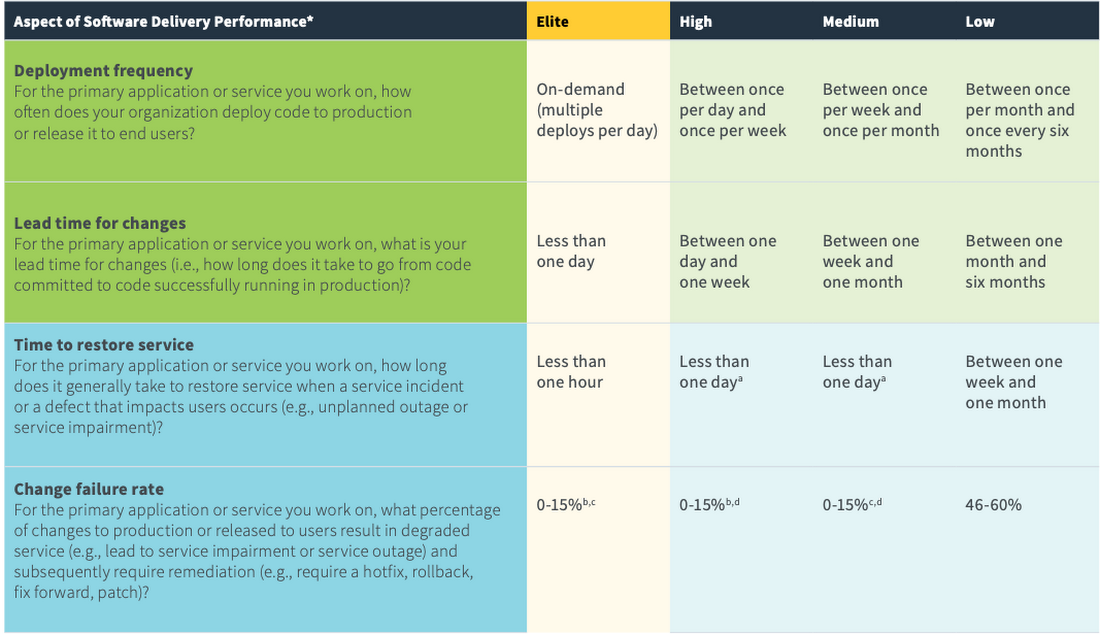 Achieving elite performance is a team endeavor, and diverse, inclusive teams drive the best performance. Likewise, the research program benefits from the participation of a diverse group of people. Please help us encourage more voices by sharing this survey with your network, especially with your colleagues from underrepresented parts of our industry. 
The survey is for everyone, regardless of where you are on your DevOps journey, the size of your organization, or your organization's industry. There are no right or wrong answers; in fact, we often hear feedback that questions in the survey prompt ideas for improvement. Also, you can put many of the ideas into practice immediately. 
Some of the key topics we look to deep dive into this year include:
Metrics and Measurement: Practices employed by high performing teams 

SRE and DevOps: How do they fit together and how they impact performance

How to best integrate security & compliance as a part of your app development 

The impact of cloud, monitoring & observability, open-source, and documentation on performance

Distributed teams: Practices to improve work/life balance and reduce burnout

The state of multi-cloud computing 
How can I get involved? 

We're looking for one  C2C Community member to take the survey like with the DORA team on June 9. You'll need to meet the criteria noted below to be considered and will be selected by C2C on May 27. The advance notice is to allow you and your teams to prepare and answer any preliminary questions.
Feel free to reach out to Sabina@c2cglobal.com with your interest, or comment below.
Criteria for consideration: 
You are open to having your team's performance shared in a live C2C Talks event.
You can attend the follow-on discussion on June 23 to share and discuss your results. 
You're open to participating in a case study with Google Cloud after June 23.

Final Thoughts
For those interested in the data but not eager to participate in the live event or being considered, you can check it out on your own. The survey will remain open until midnight PST on June 11, 2021. 
Stay tuned to our Events page for registration to both C2C Talks events.